The nativity scene itinerary starts off from a magical comert right in the town centre of Ossana, and it winds its way through the narrow streets and hidden corners of this hamlet all the way up to the walls of the San Michele Castle: almost 1600 characteristic nativity scenes, all handmade by local citizens, artists, schools and volunteer associations from Ossana and from all of Val di Sole. You can admire these incredibly creative nativity scenes that are made using unusual materials like fabric, wood, seeds or corn leaves. And just for this special event, the itinerary in this quaint mountain hamlet is illuminated using ancient oil lamps. You can visit the nativity scenes from December 1st 2023 to January 7th 2024, from 10 am to 10 pm.
NOT TO MISS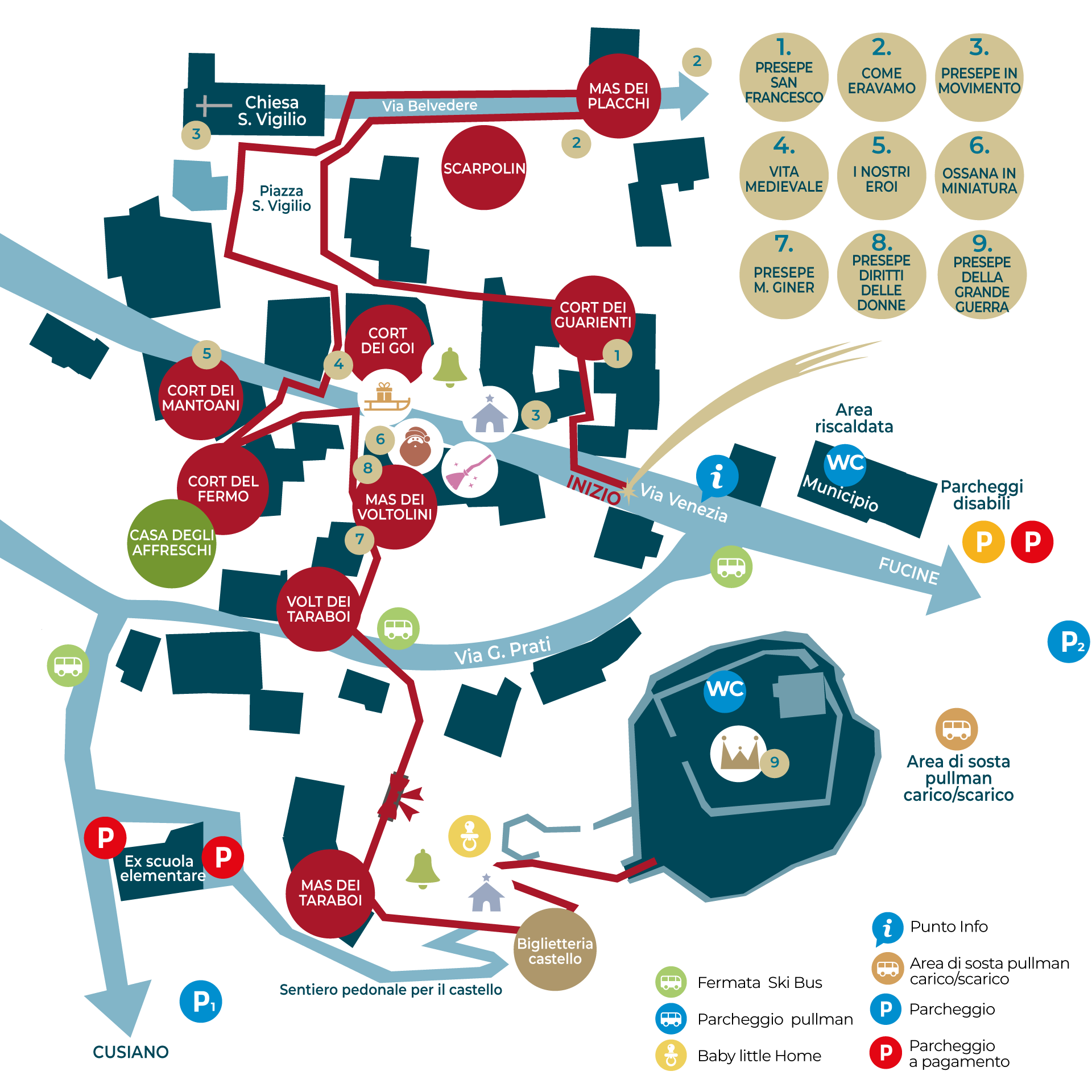 MECHANICAL NATIVITY SCENE
Located next to the San Vigilio Church . The nativity depicts scenes from daily life dating back several decades
WORLD WAR I NATIVITY SCENE
Located within the walls of the San Michele Castle . This nativity scene was created for the WWI Centenary, taking visitors back to this war in the trenches and the chance to relive this true story that occurred on Christmas night during WWI
MONTE GINER NATIVITY SCENE
Located in the «Mas dei Voltolini» . This nativity scene was created to mark the 60th anniversary of the tragic airplane crash that occurred on December 22nd 1956 on Mount Giner at a height of 2.600 meters in the Ossana area
WOMAN RIGHTS NATIVITY SCENE
Within the exhibition, all the women victims of violence and femicide will be particularly remembered in one of the cribs. Exposed on a farm at the foot of the Castle of San Michele.
OSSANA'S MINIATURE
Made in 2020-2021, during the pandemic, it represents the faithful miniature of the village of Ossana.It is set up in the Sala Jacopo Aconcio on the ground floor of the Town Hall.
OUR ROOTS
Nativity in alpine landscape on roots.